To become Waymaker certified, complete your learning courses in Waymaker Academy and take the paid assessment for the one or more certifications you wish to achieve.
Coaches and consultants can build a thriving strategic advisory practice helping organizations become high performing teams. Read more about that here.
There are six certifications, with the premier certification being the Waymaker Certified Advisor.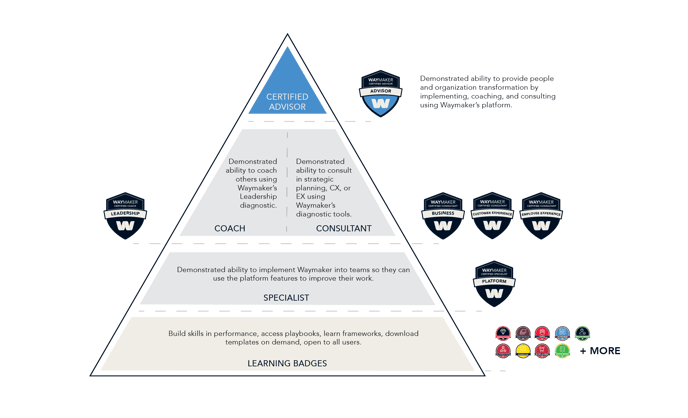 To secure your certification you will need to do the following.
Learn the relevant systems on Waymaker.io
Complete the course work in Waymaker Academy
Pass the online certification by purchasing that certification in the Waymaker online store. The certification is purchased via the webstore on Waymaker.io. On purchase you will be emailed a private link to take your exam. The exam is non-proctored and can be retaken until you pass it. On successful completion of the exam you will be issued with the relevant certificate and certification.
Certified coaches and consultants can use their certifications in their email footers, social media profiles, or online on their website and digital assets.
Here is a breakdown of each certification, the coursework to complete and where to purchase the certification.
| | | | | |
| --- | --- | --- | --- | --- |
| | Platform Specialist | For agile coaches, business coaches, and operations leaders who want to implement Waymaker and agile best practices. | Work Better | Buy and take certification exam |
| | CX Consultant | For sales and marketing consultants and coaches who want to build a strategic advisory business in demand generation and revenue maximization. | Sell Better | Buy and take the certification exam |
| | EX Consultant | For HR consultants and coaches who want to build a strategic advisory business in people, performance, and culture. | Hire Better | Buy and take the certification exam |
| | Business Consultant | For strategic business coaches & consultants who want to lead business strategy, planning, and growth. | Plan Better | Buy and take the certification exam |
| | Leadership Coach | For executive and leadership coaches who want to build an effective leadership advisory business. | Lead Better | Buy and take the certification exam |
| | Advisor | For recognized experts in leadership, business strategy, planning, performance, and growth. | Complete all courses in the 'Better business' series above. This includes; Work Better, Sell Better, Hire Better, Plan Better, and Lead Better. | Buy and take the certification exam |