Playbooks can be shared as a public site to be viewed by non Waymaker users.
Playbooks can be shared to a public URL for anyone to read and interact with. Typical use cases are shared documents, policies or protocols, annual reports, a project plan to external suppliers or contributors, board or committee reports to volunteers or unlicensed Waymaker users, or simply publish micro-website for a collaborative plan, event, or document.
A public playbook is a micro-website. The Waymaker branding, navigation and settings are removed and only the playbook is retained.
The playbook page navigation will act as the site navigation on the playbook.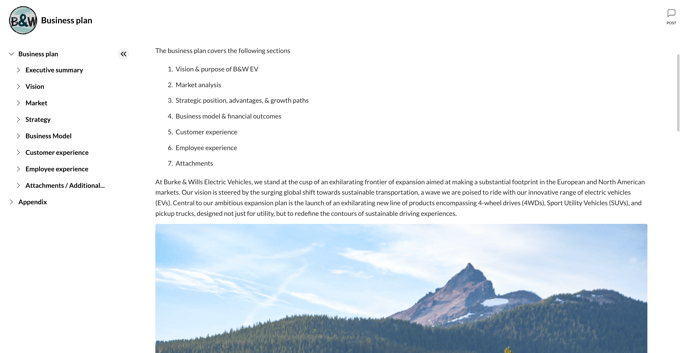 How to turn on public sharing
To turn on public sharing follow these steps.
Select 'Edit' from the Playbook menu.
Turn on the Share Publicly toggle.
Copy the URL or click 'Copy Link' and provide this link to whomever you want to view the playbook.
To turn off public sharing, toggle the 'Share Publicly' toggle off.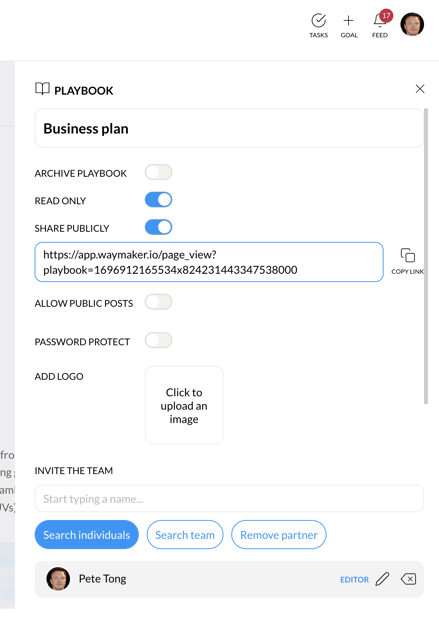 Public sharing settings
Turning on public sharing allows a user to set the following permissions.
Allow public posts.
Password protect the public playbook.
Add a logo or icon to public playbook.
Allow public posts
Turning on public posts allows a public view to make a post comment on the post feed of the document.
Public users can click the post icon and leave a public post comment on the playbook. This post can be anonymous and will be viewable by all users.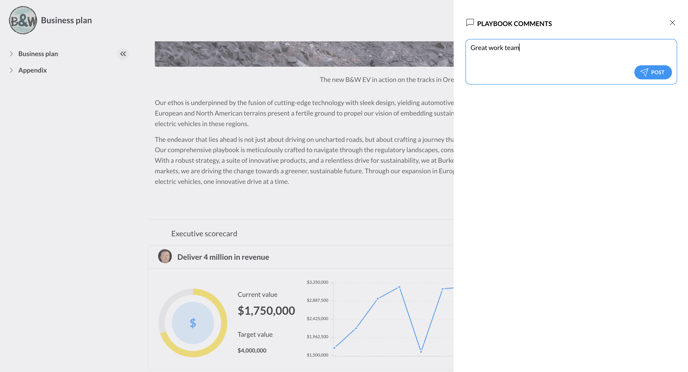 Password protect the public playbook
An editor sharing a playbook can protect the contents by adding a password. The password is set by the user and can be any combination of text, special characters, or numbers.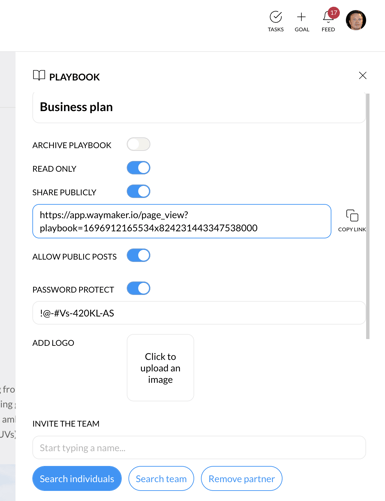 If a playbook shared publicly is secured with password protection, then any user visiting that public playbook URL will be forced to enter the password for access.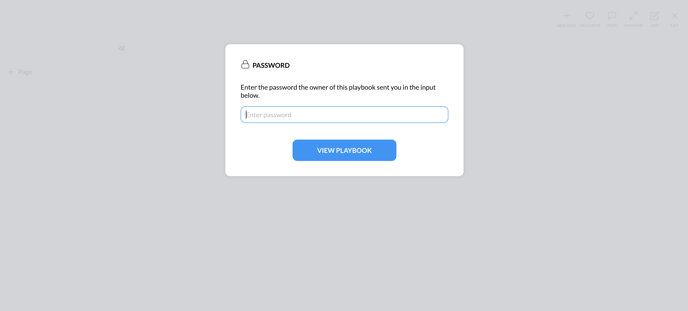 Add a logo to a public playbook
Playbook editors may want to brand their playbook with a logo or an icon. This will add an image to the top left of the playbook, before the playbook name.
To do this upload a logo or icon on the Playbook editor after turning on 'Share Publicly'.
The dimensions for practice are 65px x 65px and use .png or .jpg for best results.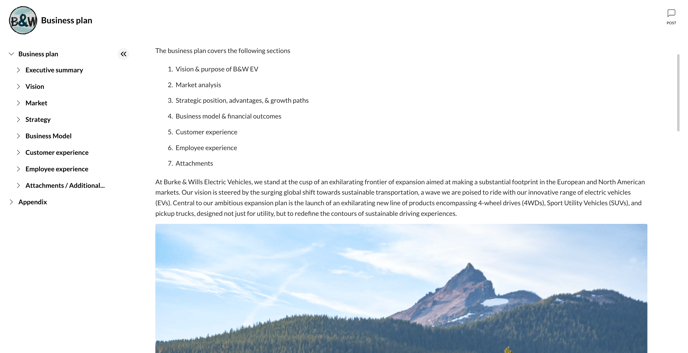 Understanding Waymaker data visibility and access on public playbooks
Creating a public site from a playbook means any data embedded on a page can be viewed but not accessed or edited.
Users should consider carefully the sharing of playbooks on a public URL and ensure any data embedded is being protected or appropriate for the end user.
The embedding of iframe data, such as dashboards from Power BI, Tableau, Google Data Studio (Looker) will result in the accessibility of that data according to the rules and governance of the source platform.